The route
Despite the distance, it was great all the guys made the finish line. Kind weather and pulling together as a team made the whole three days an enjoyable and very rewarding experience. Just one question remains: where to next?!
Barry Baker, Sales Director of Grimme UK
The route took them from their premises at Dunnington, York to Grimme's factory in Damme, Germany
Day 1: a short (!) 48 mile cycle to the ferry terminal at King George Dock, Hull. Here the team and their equipment sailed overnight to Rotterdam
Day 2: the team covered approximately 125 miles, in good weather. They arrived at their half-way stop in Deventer, Netherlands, for a well-deserved night's rest
Day 3: with an early start, the team pushed through the pain and arrived at their destination in Damme, Germany, at around 5.30pm
An epic cycle for part-time cyclists!
This was quite an undertaking for the Grimme guys. They ranged from complete novices to slightly more experienced cyclists, but no one had experience of cycling on this epic scale.
Despite the enormity of this challenge, each member remained 100% focussed on achieving their goal: to raise as much money for Children with Cancer UK as possible.
Despite punctures, blow outs and the support team getting lost on a couple of occasions, the ride couldn't have gone better.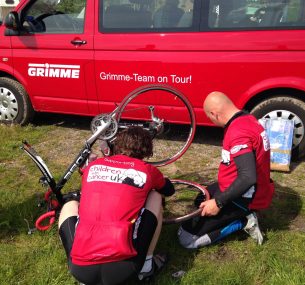 An international team
Team Grimme 2015 was a fully international team with members from Grimme UK, Grimme Damme & Grimme Skandinavia. The 15 team members were:
Peter Mason (UK), Glyn Argent (UK), Dan Taylor (UK), Russell Button (UK), Chris Shipley (UK), Barry Baker (UK), Peter Stocks (UK), Neil Jackson (UK), Heine Hylleberg (SK), Per Rasmussen (SK), Henrik Pedersen (SK), Soren Lund Madsen (SK), Morton Mikkelsen (SK), Dirk-Jan Staple & Marcel Stubbe (Damme). Support Team Mark Addinall & Stuart Smith (UK).
Thank you Grimme!
A big thank you to Team Grimme for taking on this epic challenge. They have now raised over £10,000 for Children with Cancer UK!
We are extremely grateful to all the employees of Grimme and for everyone who sponsored them.