Charity partner for 2019
The employees of the UK's largest automotive servicing and repair company selected Children with Cancer UK to be its charity partner for 2019 and are aiming to raise £1million throughout the year.
These funds will go towards providing new family accommodation in a bid to keep families together whilst children from across the country undergo specialist treatment. Accommodation is particularly important as families often otherwise travel far and wide incurring expensive transport and hotel bills. Our commitment will provide them with a much-needed place to stay close to their children. Kwik Fit employees are swapping cars for bikes as they hit the road for the company's first-ever national cycling event, covering the length and breadth of the country. The staff are pedalling to raise vital funds for Children with Cancer UK, furthering the charity's mission to help every child diagnosed with cancer ring the end of treatment bell.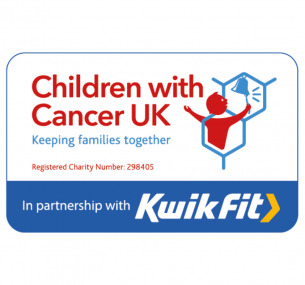 What is the Tour de Branch?
The Tour de Branch will see more than 80 cyclists embark on a national tour, connecting 127 Kwik Fit centres from 19th August until 18th September. The 2,500 mile route, some 300 miles longer than this year's Tour de France, will begin in Aberdeen, taking in all regions of Great Britain, before ending a month later in Manchester.
The Tour de Branch route includes Scotland, the North East, East Anglia, Herts and Berks, London, Kent, the South of England, South West, Wales and the West of England, and finally the North West.  Customers are being encouraged to visit the centres along the route to support the cyclists as they pass through UK towns and cities, cycling between 80-100 miles a day.
To help inspire the team as they take on the hard miles, the riders will also be meeting with children and families who have experienced the devastation of a cancer diagnosis and who have come through to ring the bell to mark the end of their treatment. Their stories will bring home the importance of the fundraising the team are carrying out.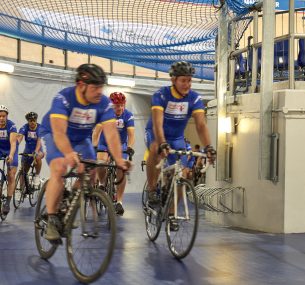 Mark Slade, Managing Director at Kwik Fit, said:
We are thrilled to have so many of our employees taking part in this challenge for our 2019 charity partner. This is a first for Kwik Fit and we are all really excited to get the tour underway.

Our teams would love to see some friendly faces supporting them throughout the route so we encourage anyone interested to keep track on social media and come and visit the teams when they are close by. All money raised by the Tour de Branch will go towards our £1million target, helping Children with Cancer UK continue their brilliant and lifesaving work.
Zahra Scott, Senior Manager – Sport, Regional & Corporate at Children with Cancer UK, said:
We are extremely grateful to all Kwik Fit staff for their participation in this epic cycling event which is part of their incredible pledge to raise £1 million to support Children with Cancer UK's aim of keeping families affected by childhood cancer together. Kwit Fit is really going above and beyond in their fundraising efforts, riding a mammoth 2,500 miles across the UK, and we thank the entire team for their continued and dedicated support of our work to fight the injustice of childhood cancer. We will be cheering the cyclists on along the route!
Anyone wishing to donate can do so very easily by texting KWIK3 to 70007 to donate £3* or by visiting the Kwik Fit website.
* Texts cost £5 plus your standard network rate. Your details will only be used for the purpose of processing your donation and will not be used for any marketing purposes by Children with Cancer UK. If you have any questions you can call Children with Cancer UK on 020 7404 0808. Registered Charity Number: 298405. Expiry date 31/12/19.