It was just after Nieve's 5th birthday
Nieve had just celebrated her 5th birthday when we noticed a slight lump in her lower abdomen, she was otherwise fit and well. We took Nieve to the GP who sent us to the hospital where they began investigations. An ultrasound revealed a mass but at this time it was impossible to know exactly what it was. Over the next few weeks, Nieve's mass continued to grow quickly, and she began experiencing more and more pain, while the investigations were ongoing.
It took a month to complete investigations due to the unusual presentation of Nieve's mass, but eventually she was diagnosed with Extra Renal Wilms' tumour with Metastatic lung disease. I can't even begin to explain the devastation that our family felt at this time.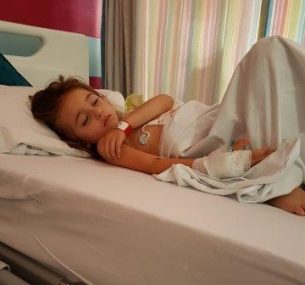 Treatment began immediately including marathon surgery
Nieve began chemotherapy four days after her official diagnosis. Unfortunately, things didn't initially go to plan and Nieve had to undergo an emergency 12-hour operation. Two weeks later as it was found that the tumour was haemorrhaging into itself. The concern was the tumour would rupture, or cut off the blood supply to Nieve's organs. The surgery was very risky, the concern being uncontrollable blood loss, it was a very tense day needless to say! Thankfully, everything went well and the tumour was fully excised. This was amazing news for our family and we are so thankful to all involved.
Following the surgery Nieve was in intensive care for around nine days before being transferred back to the oncology ward. Over the next few weeks, she needed further surgeries on her wound, which initially did not heal well due to the effects of the chemotherapy. Infection was a huge concern at this time. Nieve was also unable to have further chemotherapy until she had recovered enough from surgery, and we were very aware of the lung metastasis and their potential to grow or spread.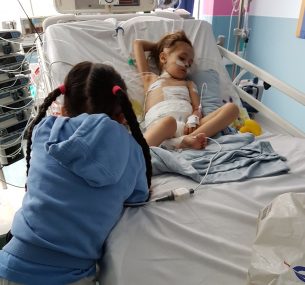 Nieve struggled with weight loss
While all this was going on Nieve was being (nasogastric) fed, and we struggled to find a feed that she could tolerate. She lost a lot of weight and was being sick several times a day, despite anti-sickness medication. Eventually we found a feed that Nieve could keep down and she was finally allowed home. This was a huge boost for our family, especially Nieve's then seven-year-old sister, Francesca, who had struggled with being apart from her little sister for so long.
Nieve continued to have chemotherapy as an outpatient for a further 10 months. She also underwent three weeks of radiotherapy, and various minor surgeries. Nieve remained fairly well for the remainder of her treatment, with her biggest issue being sickness and maintaining her weight.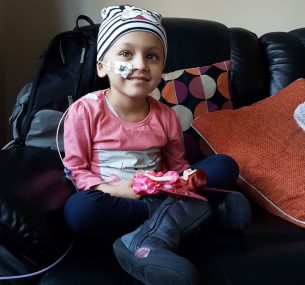 Ringing the end of treatment bell and a trip to Disneyland
In September 2018, Nieve had her last chemotherapy and in October, we were given the fabulous news that she was disease free. She rang the End of Treatment Bells shortly after, a day we will never forget.
It's now June 2019 and Nieve continues to do well. Her hair is growing back wonderfully and she is making good progress at school. Nieve has a colostomy stoma from where they had to remove a short section of bowel during the 12-hour emergency surgery. We are hopeful that in the future Nieve will be able to have the stoma closed, but for now, it is a small price to pay for having a healthy child.
Currently Nieve is having three monthly scans to look for any signs of the disease returning, as is routine, but we are all very hopeful for the future. We have just returned from a family trip to Disney World Florida where Nieve and her big sister Francesca had a wonderful time, just being normal children again.
End of Treatment Bells are placed into hospitals for children and adults with cancer to ring after their gruelling treatment.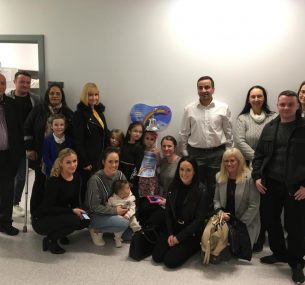 From Children with Cancer UK
Nieve has also featured on our panel adverts placed on the London Underground and various train networks. Between the months of December 2018 and April 2019, the campaign raised over £21,000 and recruited 323 new regular donors.
We would like to thank Nieve and her parents for kindly allowing us to share her story and image with the public.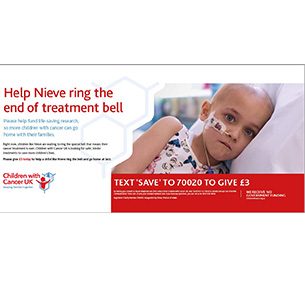 How you can help
If you've been touched by Nieve's journey, help us invest in the high quality research that really matters which would otherwise go unfunded.
This helps to support children with cancer so they can be with their families for longer.
Have you or a family member been affected by childhood cancer?
Many of our supporters have been affected by childhood cancer – either through family, friends or their own personal experience. These patient stories can help inspire others to get involved with us, or can support our media work.
If you have a story that you would like to tell, please contact us by email.