Zunairah's story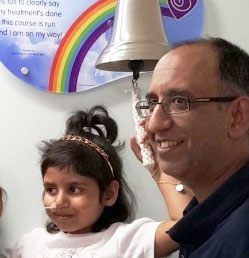 Like every parent, the only thing I want to give my children is a magical childhood. So when my little girl, Zunairah, was diagnosed with acute lymphoblastic leukaemia (ALL) at just two years old, it completely shattered our lives. My little Zuni had always been so bubbly and joyful, but treatment really affected her. All we could do was pray for the day that she would complete chemotherapy and ring the end of treatment bell.
Thankfully, there has been great progress in ALL research and that meant that the doctors knew exactly how to go about Zuni's treatment and two years later she was able to ring the end of treatment bell. It was truly one of the most magical days of our lives. As I held up my little girl to ring the bell, we counted down from ten and when we got to zero she rang the bell which a huge smile on her face.
I hope that one day every parent of a child with cancer will get to celebrate the magical day of ringing the bell. But out of the 12 children and young people diagnosed with cancer every day in the UK, two will sadly not survive. That is why research is still so vital.
Research is the reason that my Zuni is remission now, and is having the magical childhood I always dreamt for her. She has been to Disneyland and has visited family in India. She loves gymnastics and is often cartwheeling around the house! When I look at her now, I feel so proud of how far she has come.
Sadly, the pandemic has caused Children with Cancer UK a loss of nearly £5 million, which is severely impacting how much it continue to invest in life-saving research. Please donate today to help make sure vital research continues for children like my Zuni.
Ayaze, Zunairah's dad