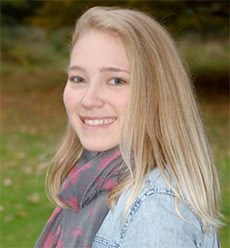 Read Bethany's bone cancer story
"I was diagnosed with a rare form of bone cancer called Periosteal osteosarcoma in 2010, I was 14 years old.
It started with an ache and I had a very small lump on my left leg, just under my knee, it grew fast and was the size of a tennis ball in no time. My GP sent me for an urgent x-ray and then I was quickly referred to the Royal National Orthopaedic Hospital. It all happened so fast I didn't know what was going on.
I had a biopsy and results day arrived. The doctor looked at me and said 'I'm sorry but it's cancer'. I will never forget those words but I was thinking 'no he has it wrong, I'm 14 I can't have cancer'. He said that the osteosarcoma tumour would need to be removed with surgery.
The big day arrived, I remember going there thinking 'I may leave here with just one leg'. And that, I couldn't accept. It took five hours, but the doctors were able to save my leg and successfully remove all of the tumour.
Two years later I was in a show dancing, cartwheeling and doing the splits and handstands! The doctors were amazed and said that I should be using crutches!
I am now 18 years old and have been clear for almost five years. I have finished a dance BTEC at college and am at university studying Dance Education."
If you've been touched by Bethany's journey, help us invest in the high quality research that really matters which would otherwise go unfunded, helping to support children with cancer so they can be with their families for longer.