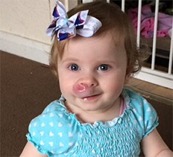 Read Krystal's victory against rhabdomyosarcoma, told by her mum, Rebecca.
"A small red mark appeared above her lip and the GP initially treated her for an infection. We used creams and were given antibiotics, but it started spreading and getting bigger. After three long months of different antibiotics and creams and different doctors looking at her we went to the Ear, Nose and Throat Unit. As soon as the doctor had seen her he booked a biopsy to have a small piece of the lump removed for testing.
A week later the results were in and we were taken to a small room. I'll never forget that day. They said: "I'm sorry, but your daughter has cancer: rhabdomyosarcoma". So many questions race around your head. Will she die? Will her hair fall out? How likely is it the chemo will work? But I had to stay strong for her. And Krystal, no matter what, was always smiling.
She had intense chemo every three weeks for three days – six doses at once. It was tough, but she was tougher. Her hair had fallen out after the first two weeks and in the first eight months we were only home for around 12 days.
Krystal's rhabdomyosarcoma tumour on her upper lip had spread to her lymph nodes in her neck and we were told she also needed radiotherapy. She had this in the adult hospital at the Clatterbridge Cancer Centre and had a total of 28 sessions to her face and neck. Krystal still had her chemo in between the radiotherapy. You wouldn't think they could do so much on a little baby. Her strength was amazing.
Three months later we had an MRI scan to see if the eight months of chemo and radiotherapy had worked. The results came back showing just a small shadow on the scan with no active cancer growing. I cried happy tears that day.
Krystal started maintenance chemotherapy in October 2014, having been diagnosed in March 2014. This involves a small amount of chemo through her central line every week, and oral chemo every night. It lasted a year, and finished in October 2015.
It's now been two years since Krystal finished chemotherapy treatment. She's grown up a lot, she was only 11 months when she diagnosed with cancer and is going to turn five in just four months time. We are so proud of her and the beautiful girl she's turned into. Although we still have the scan every few months, her future is uncertain. We will just take every day as it comes."
If you've been touched by Krystal's journey, help us invest in the high quality research which would otherwise go unfunded, helping to support children with cancer so they can be with their families for longer.