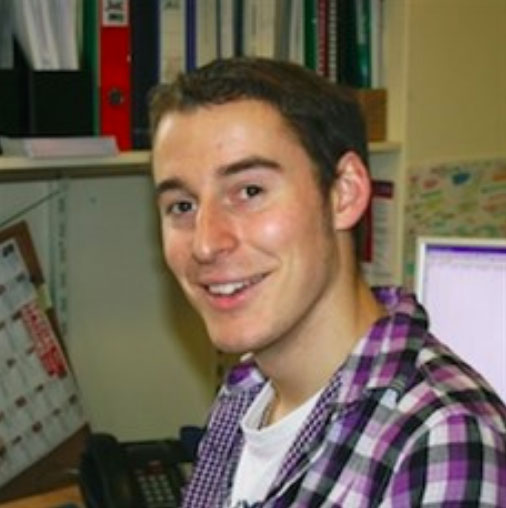 Read Andy's victory against chronic myeloid leukaemia (CML):
In the summer of 2003, Andy was feeling tired and getting frequent headaches then started to experience problems with his vision. At a routine eye examination, the optician noticed blood clots forming on the back of Andy's eyes and immediately referred him to the hospital for additional tests.
The results revealed Andy's blood was thickening from the over-production of white blood cells and he was diagnosed with chronic myeloid leukaemia at the age of 18.
"This came as an enormous shock to me and the family," says Andy. "We had only just come to terms with the news that my mum had terminal bowel cancer and I was just a week away from going to university."
Andy began a blood filtering treatment and mild chemotherapy without delay but those treatments alone would not stop the chronic myeloid leukaemia. Doctors recommended a stem cell transplant. Andy needed a bone marrow match but unfortunately none of Andy's family members were compatible. Like so many other leukaemia sufferers on the transplant list, Andy had to wait until a match could be found. Eventually, a match was found for Andy and he could move on to the next stage of treatment.
In May 2004 Andy began the first stage of the treatment. "First they clean out your kidneys, then they kill off all your existing bone marrow using chemotherapy," Andy explains.
The side effects are not pleasant. "The chemo can't distinguish one fast growing cell from another so it also attacks your hair, gums, and muscle tissue."
The transplant was a success and, much to the amazement of his doctors, Andy started to produce white blood cells within a week. He was home a month after the transplant and was able to spend a few days with his mother before she sadly died. While the bone marrow transplant was successful, Andy was left exhausted and weak from the procedure. He continued to visit the hospital two or three times a week for anti-rejection drugs and follow-ups.
"I've now run five London Marathons – including three dressed as Mr Men characters – as well as Paris and New York in my bid to raise funds for the charity. So far I've raised over £40,000 but there is still a long way to go before I call it a day."
If you've been touched by Andy's journey, help us invest in the high quality research that really matters which would otherwise go unfunded, helping to support children with cancer so they can be with their families for longer.