We received the worst news ever
Oscar was born in June 2014. He was a much longed for baby, our very own miracle boy. Oscar was a normal healthy happy little toddler. So in June 2017, we were shocked beyond belief to receive the worst news any parent could ever be given. Our darling boy had cancer. Oscar was diagnosed with Rhabdomyosarcoma of the right temporal fossa. Our world was completely shattered. Within days of diagnosis, Oscar had his central line fitted and was admitted to hospital to receive round one of thirteen sessions of chemotherapy. In November 2017 it was decided that surgery to remove the mass was an option. So on 28th November, Oscar's mass was successfully removed, but due to inadequate healthy tissue margins, Oscar would still need proton therapy treatment to hopefully reduce the risk of relapse.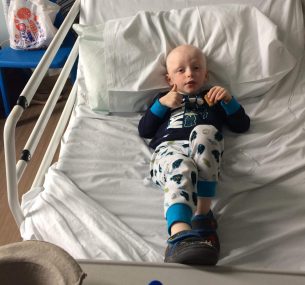 Proton therapy treatment
So in February 2018 we flew out to Germany to start proton therapy treatment. We lived in Germany for 7 weeks while Oscar received 28 sessions of proton therapy while under general anaesthetic, five days each week. This was Oscar's final course of treatment and on our return to the UK, he finally got to ring the End of Treatment Bell.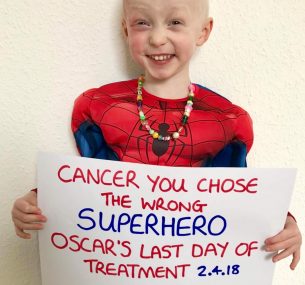 He has been our rock
As a family we have been to hell and back but Oscar in true 'superhero style', has shown tremendous courage throughout and has never complained. He has struggled with terrible sickness, joint pain and fatigue, but this hasn't stopped him from always having the biggest smile on his face and filling the room with his infectious laugh. It's Oscar who has been our 'rock' and got us through the darkest of days when it should have been the other way around. Without his positivity and tenacity, as cancer parents, we would have crumbled long before now.
Oscar's zest for life has certainly been our motivation to pick ourselves up and get out of bed each day and say…WE CAN DO THIS!
End of Treatment Bells are placed into hospitals for children and adults with cancer to ring after their gruelling treatment.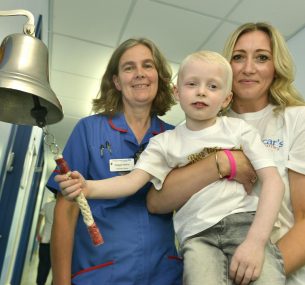 Update: May 2020
We are thrilled to tell you that Oscar is doing really well. He continues to get clear scans every three months for which we are so thankful. His school has been great throughout his treatment and beyond and he's thriving! We are very proud of him!
Oscar will be celebrating his sixth birthday in June and also his two years cancer free milestone.
Here's a picture of Oscar clapping for the NHS during lockdown.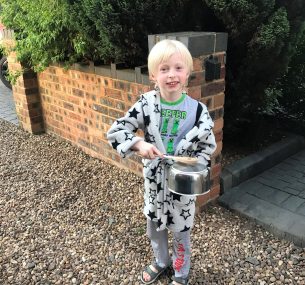 How you can help
If you've been touched by Oscar's journey, help us invest in the high quality research that really matters which would otherwise go unfunded.
This helps to support children with cancer so they can be with their families for longer.
Have you or a family member been affected by childhood cancer?
Many of our supporters have been affected by childhood cancer – either through family, friends or their own personal experience. These patient stories can help inspire others to get involved with us, or can support our media work.
If you have a story that you would like to tell, please contact us by email.