Ethan was constantly under the weather
When Ethan started nursery, he was catching infection after infection. They say that when you begin nursery, your immune system changes, so at first I put it down to that, but over time he didn't seem to be improving and instead was getting progressively sicker. He had a persistent temperature so I took him to the doctors and they prescribed him antibiotics for an ear infection. Over the course of the new few weeks, his temperature didn't go away, so I took him to A&E and they put him on different antibiotics. By this point, Ethan was losing a lot of weight as he had no appetite.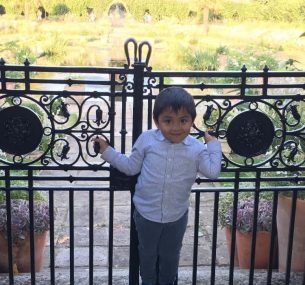 A little bruise on Ethan's spine alerted the doctors to something more sinister
The doctors eventually noticed a little bruise on Ethan's spine which prompted them to take a blood test. This proved very difficult as Ethan's veins had collapsed, so he had to have four cannulas in his arms and legs. They told us that his blood count was low but they didn't tell us what that meant that day.
It wasn't until we were transferred to another hospital for more tests, that we finally received the news that Ethan had B-cell acute lymphoblastic leukaemia. I was in complete shock. I didn't have much time to process the news as immediately Ethan had to have blood transfusions due to his low blood count. He then started chemotherapy, staying in hospital for two to three weeks. We were told that the first six months would be the hardest and we braced ourselves for what was to come.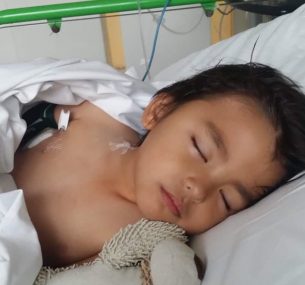 Ethan's treatment
The chemotherapy caused all of Ethan's hair to fall out and the steroids made him put on so much weight that he couldn't walk anymore. He was sick all the time and it felt like he had regressed to being a baby again. On top of the weight gain, the steroids made Ethan incredibly grumpy and irritable.
Ethan has now progressed to maintenance therapy which still involves regular chemotherapy, steroids and lumbar punctures, but means that he is doing much better. He's lost a bit of weight so can walk again and has even gone back to school. He has his bad days and we always have to be prepared to drop everything to rush him to hospital, but overall he is coping well.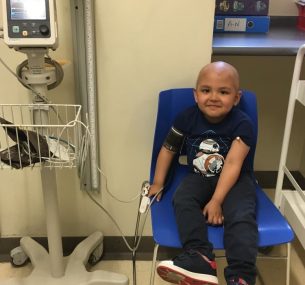 The impact of Ethan's diagnosis
Ethan's diagnosis has changed our lives completely. Any plans we make are dependent on how he's feeling and can change at any moment. You live with a constant worry that Ethan is going to pick up a bug when he leaves the house or when he goes to play with friends. It's hard to tell him that he can't play with his friends if one of them is slightly ill.
Our days very much depend on how Ethan is feeling – on a good day life continues as normal, on a bad day we have to be ready to go to hospital straight away, so I always have a bag packed just in case.
Ethan is now two years into treatment which is expected to finish in 2021. I'm hoping and praying that all the medicine works and he's strong enough to pull through and complete treatment.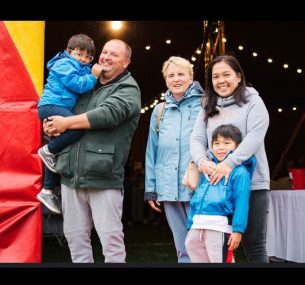 How you can help
If you've been touched by Ethan's journey, help us invest in the high quality research that really matters which would otherwise go unfunded.
This helps to support children with cancer so they can be with their families for longer.
Have you or a family member been affected by childhood cancer?
Many of our supporters have been affected by childhood cancer – either through family, friends or their own personal experience. These patient stories can help inspire others to get involved with us, or can support our media work.
If you have a story that you would like to tell, please contact us by email.