A long diagnosis
When she was four months old, Hollie had little pin prick like spots all over her body. We took her back and forth to the doctors. As Hollie has always been constipated, they said these spots were a straining rash.
Months down the line the spots still hadn't gone and more were appearing. Again we took her to the doctors and they sent us home with the same reason. When Hollie was a year old, she started pulling herself up and crawling around. She would bruise very easily. So back to the doctors and they said that now she was moving around she was going to bump herself.
Something was telling me that something wasn't right. But you take the doctor's word for it, don't you? At 14 months old, Hollie was black and blue, bruises all over her. People were looking and I bet they were thinking I'd done it to her. I was nearly in tears. I changed surgeries.
As soon as we saw a new doctor, he said something wasn't right and called the hospital for a full blood count. We went straight there for Hollie's results. The spots were all to do with a lack of platelets. Her platelet count should have been between 150-400. Hollie's was nine.
We were rushed straight to the children's oncology ward in Cardiff. On 9 July 2009, Hollie was then diagnosed with acute myeloid leukaemia (AML).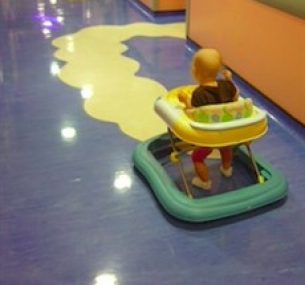 Hollie's treatment
Children with Down's syndrome and AML usually do better than other children with AML and seem not to need such strong treatment. The treatment Hollie is having is still on trial – it's called the 'Down's syndrome 2007' protocol.
It's the same chemotherapy, just less of it. Hollie's had three cycles so far, only one to go. Not once has she taken the smile off her face. She's always running up and down the corridor in her walker, chasing the doctors and nurses – us running behind her with her drip stand.
The photos are from when she first went into hospital to present. There are a couple of photos with Hollie and Joe Calzaghe and Charlotte Church. They absolutely adored Hollie. Hope you like them.
Thanks so much for taking your time to read Hollie's story. I just want to show everyone how strong and brave my little princess warrior really is.  She makes me so proud.
Hayley Stanley (proud mummy).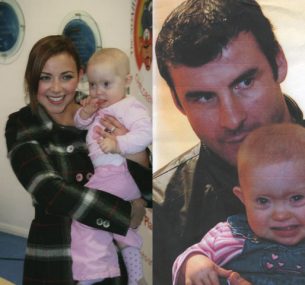 July 2014
In December 2013, Hollie celebrated being five year all-clear by having at least 10 inches of her hair cut to donate to the Princess Trust. In July 2014, she was given the all clear.
June 2017
Hollie is doing amazing eight years on from her diagnosis and she's absolutely amazing. Hollie is nine-years-old now. She attends mainstream primary school and is very popular with all the school. Hollie has come on leaps and bounds. She's reading and writing. Plays football for a little team down Swansea City and still very mischievous. We are super proud of her.
We have an oncology appointment coming up in July 2017 and even after eight years, it's still nerve racking reading the letter and the build up for her appointment but she's doing amazingly well.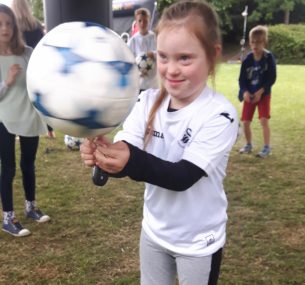 Update: October 2018
Hollie is now 10, soon to be 11. She is doing fantastic at school and is thriving both independently and academically. Hollie is a very popular member of her school. All staff and pupils are absolutely amazing with her. They're always behind us with support for Hollie. We did have a scare the other week after a blood test and her HB was rather high. After a repeated blood test, her bloods were back in the normal range. We were so worried it had returned. Hollie is fit and healthy. She enjoys taking part in everything. She attends after school club and goes to a local gymnastics class with her sister Poppie. She's doing amazing in everything and we couldn't be any more proud of her. Massive thanks to Children with Cancer UK charity that is always there for us.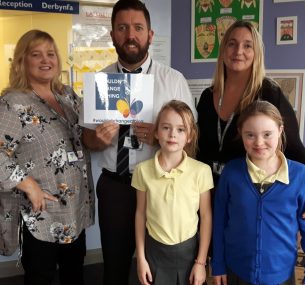 Update: April 2020
Hollie is now 10 years all-clear and doing really well. She loves walking her dog, Bella, with her sisters Poppie and Lillie and is very popular at school.
To celebrate her 10 year all-clear milestone, Hollie decided to cut off 14 inches of her hair to raise just under £200 for Children with Cancer UK.
Hollie featured as our fundraiser of the month in March.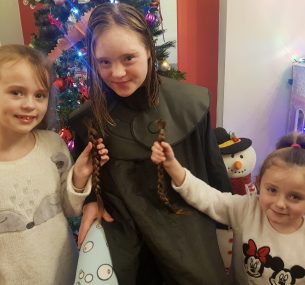 How you can help
If you've been touched by Hollie's journey, help us invest in the high quality research that really matters which would otherwise go unfunded.
This helps to support children with cancer so they can be with their families for longer.
Have you or a family member been affected by childhood cancer?
Many of our supporters have been affected by childhood cancer – either through family, friends or their own personal experience. These patient stories can help inspire others to get involved with us, or can support our media work.
If you have a story that you would like to tell, please contact us by email.