We noticed spots and bruising all over her body
On the 4th May 2020, Isla-Mae was rushed to hospital after a few weeks of high temperatures and swollen tonsils. In the previous weeks we had the ambulance service out and online consultations with the GP and everyone said she was fine and it was a case of tonsillitis.
But at the beginning of May, Isla-Mae got worse and we noticed spots and bruising all over her body. We rushed her to hospital and after seven hours of tests, the doctors came back to us with the worst news we've ever heard – she had leukaemia.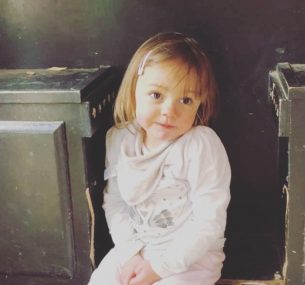 We nearly lost her
They transferred us that night to another hospital in Nottingham and on the 5th May she was rushed to have surgery and x-rays, including a bone marrow surgery. Whilst this was happening the doctors noticed she wasn't breathing correctly and this led to even more bad news. They have found a huge tumour on her left lung, which then led to her being on life support for three to four days and asleep for that long too. The doctors tell us now that on that day, we nearly lost her.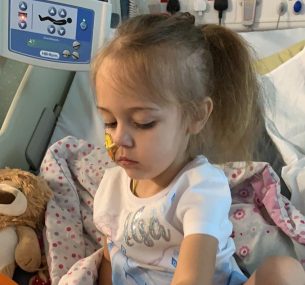 The intensive treatment that followed
After a lot of surgery, tests, blood transfusions and chemotherapy, we were told that treatment was working well. Obviously this was all happening during the coronavirus pandemic and my wife was heavily pregnant. I wasn't allowed to visit for two weeks whilst they were in hospital, which was so hard. Thankfully Isla-Mae was allowed home after two weeks, so I was able to be with her and care for her.
The weeks that followed were torturous for us, having to watch her hair fall out and see how her body was reacting to the harsh treatment was really shocking. I just couldn't believe what her little two-year-old body was having to go through.
The whole experience has been heartbreaking for us, but the biggest shock was that Isla-Mae had always been a happy child, even when she was ill, so we never suspected her diagnosis. Even on the days leading up to her diagnosis, she was showing no sign of cancer and happily playing with her toys.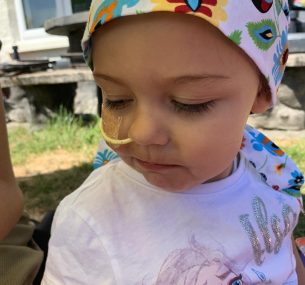 The long road ahead
After weeks of chemotherapy and treatment, Isla-Mae was rushed to hospital again with an infection in her tubes. She is still in hospital with a racing heart, which we have now been told is due to a blood clot on her heart. My wife gave birth whilst this was happening, so it's fair to say that we've all been taken on a bit of a roller-coaster ride recently.
I wouldn't wish what Isla-Mae is going through on anyone and I get frustrated when people tell us that acute lymphoblastic leukaemia isn't the worst cancer – it really doesn't make it any easier.
In terms of what lies ahead for Isla-Mae, everything is still unclear due to the blood clot on her heart. She has two and a half years left of treatment, but at any moment she can be back in hospital due to complications and infections. Life is therefore incredibly uncertain and scary at the moment and we're going to have to take things day by day in order to get through the long journey ahead.
June 2020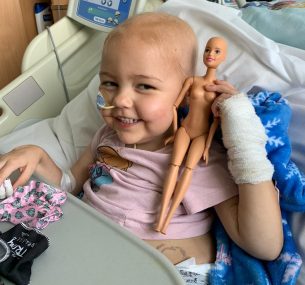 How you can help
If you've been touched by Isla-Mae's journey, help us invest in the high quality research that really matters which would otherwise go unfunded.
This helps to support children with cancer so they can be with their families for longer.
Have you or a family member been affected by childhood cancer?
Many of our supporters have been affected by childhood cancer – either through family, friends or their own personal experience. These patient stories can help inspire others to get involved with us, or can support our media work.
If you have a story that you would like to tell, please contact us by email.