The day our family life fell apart
In April 2008, family life as we once knew it fell apart forever because at just four years of age, my son Jacob was diagnosed with stage four neuroblastoma. Neuroblastoma is a rare and aggressive cancer that affects children, mostly under the age of five years old and usually starts in the abdomen area.
Jacob had been unwell for some weeks, he had lost his appetite, begun to lose weight and he was having night sweats. He was also complaining of pain in his legs whenever he walked. After several frustrating visits to our GP we were finally referred to see a paediatrician.
Intensive treatment begins
Following diagnoses Jacob received treatment at a hospital in Cambridge. His treatment included eight courses of intensive chemotherapy, surgery to remove the solid tumour, high risk high dose chemotherapy and finally a stem cell transplant. Once this was completed Jacob had a course of radiotherapy and six months of oral retinoic acid. The treatment took approximately 18 months, and during this time Jacob took part in two clinical trials.
At the time of diagnoses we were given very little hope that the treatment would be successful, and although this was hard to accept as a parent, we never once let Jacob or his twin sister know the seriousness of his illness. We were always as positive as we could be around them, and would always talk about all the things we had planned to do as soon as Jacob 'got better'.
Ten years on
I am relieved and thrilled that my beautiful boy is still with us, fit and well. However, the last 10 years since treatment have not been without their complications. Jacob still attends regular check ups, he has significant hearing loss and has just one kidney as a result of the drugs used during his treatment, but he is able to live a relatively normal life and it's been wonderful to see him grow and develop into the happy and healthy teenager he now is.
Fortunately Jacob remembers very little about his treatment, and quite rightly chooses to put that chapter of his young life very much behind him. As a parent this is slightly more difficult. Having watched him go through such intensive treatment and become so poorly it is a period of our lives that I will never forget. It was truly the most awful times I have ever experienced and it is extremely difficult to actually put into words the emotions that I went through.
Fearful is probably the only word I can use to describe how I felt most of the time, and that fear has taken years to subside. I said to a close friend this evening, "once the treatment stops, the healing starts", but the healing is a lengthy process and fear that the cancer may one day return sadly always remains in the back of your mind. Cancer changes you as a family and is has changed me as a person.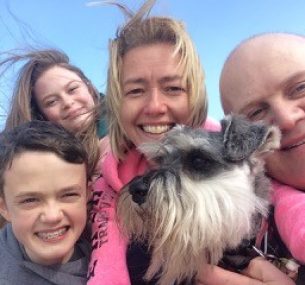 Jacob's illness put life into perspective
So you may ask, can anything good ever come from such a horrendous ordeal? Well, I believe so. Jacob's illness put life into perspective, and made me understand what really is important in life. Not possessions, but time. Time with family, time spent together making memories that will last a lifetime.
We have spent 10 years making memories, and for that opportunity I have been so grateful. I'm so thankful to all of the health professionals we've met along the way, especially those medical staff in Cambridge, as I'm aware without their expertise, the research and clinical studies, my boy may not have been with us today.
2019 marks a decade of Jacob being off treatment and I've been extremely lucky to be able to celebrate this milestone by running the Virgin Money London Marathon in support of Children with Cancer UK. It was an enormous honour for me to support such a fantastic charity, and a truly humbling experience to meet and chat to others who also chose to run and support the same great cause. It's my hope that one day no one ever has to endure seeing someone they love go through treatment for cancer, but also I'm hopeful that in the future some of the late effects caused by Jacob's treatment, such as fertility and hearing will be solved by medical research too.
How you can help
If you've been touched by Jacob's journey, help us invest in the high quality research that really matters which would otherwise go unfunded.
This helps to support children with cancer so they can be with their families for longer.
Have you or a family member been affected by childhood cancer?
Many of our supporters have been affected by childhood cancer – either through family, friends or their own personal experience. These patient stories can help inspire others to get involved with us, or can support our media work.
If you have a story that you would like to tell, please contact us by email.