Watch the video
On 29 March 2019, Bella rang her End of Treatment Bell, marking the end of her experience with chemotherapy, steroids, methotrexate and weekend antibiotics. The family were and are overjoyed.
She has started to eat again
The difference in Bella is unbelievable. She is happy and has even started to eat again. Her eating is very limited but she is eating enough to say goodbye to the NG tube. We still have a long way to go and Bella will carry on receiving monthly chemotherapy through her port. She will be having oral chemotherapy every evening alongside steroids, methotrexate and weekend antibiotics until 2019.
Bella is going from strength to strength and I am so proud of her.
Bring on ringing that bell.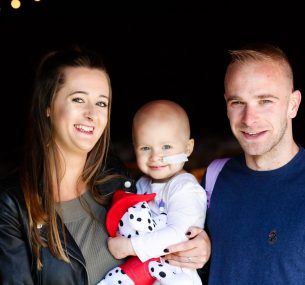 Bella's fourth birthday
It was Bella's birthday on Sunday 22nd July and I wanted to share with you the difference a year can make. She is on maintenance chemotherapy which is orally every evening and once a month through her line. She has eight more months to go.
Lisa, mum, July 2018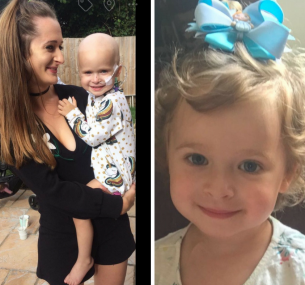 Update May 2019
Bella is doing super well, it's like she's a totally different child! She's doing really well at nursery and is walking a lot more now. Her eating is also on the improve. Bella's port was successfully removed a month ago and I hope we can now start to put this nightmare behind us. Bella was bridesmaid at our wedding in May which was very special for us all!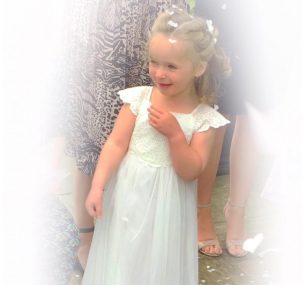 Bella picks the winning ticket
Bella and her mum Lisa joined us on 17th January to pick the winners of our Christmas Grand Draw. Bella loved seeing just how many entries were sent in and was delighted to pick the winning tickets.