Jaymen had flu-like symptoms
At 22 months old, Jaymen has started to show flu-like symptoms which doctors believed was a viral infection, despite numerous visits to the GP. It was not until Jaymen stopped walking and was clearly in severe pain that something was finally done.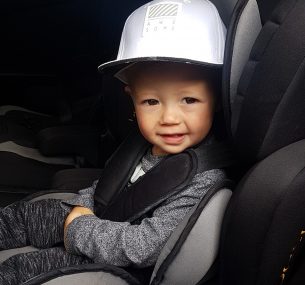 Shocking diagnosis
We went to hospital and after further investigation, which included scans and lots of tests, we received the devastating news that Jaymen had stage 4 high-risk neuroblastoma.
Jaymen had a tumour on his spleen but the disease had spread to his skull, jaw, arms, legs and chest. His arm was also fractured due to the disease and had to be put in a cast.
Our world came crumbling down that day. We just couldn't believe what was happening and how so much of his little body was consumed with cancer. We felt completely broken. Jaymen's sister is nearly four years old and it was a lot for her to take in as well.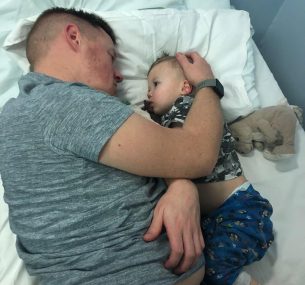 Intensive treatment
Since diagnosis, Jaymen has had seven rounds of induction chemotherapy follower by an 8-hour surgery which removed 95% of the tumour. Then he had high dose chemotherapy followed by a stem cell transplant which meant being isolated for six and a half weeks where he also developed a disease on his liver which was also potentially life threatening.
He has since been discharged and is resting before his next scans and commencement of radiotherapy and immunotherapy.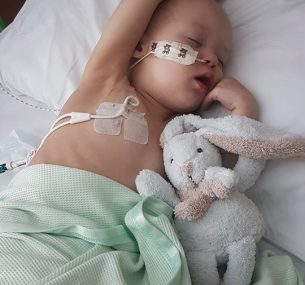 We have a long journey to go
We have a long journey to go, but Jaymen has responded well to treatment up to this point. We don't know what the future holds, but we will do everything in our power to ensure that our little boy survives this disease.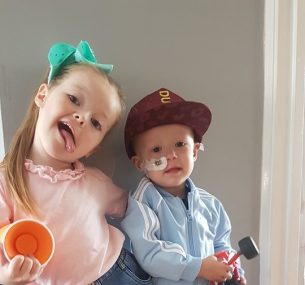 Update: April 2020
Just before the lockdown, Jaymen had finished his immunotherapy and had his end of treatment scans. They've since come back clear so he's now officially in remission. Perfect timing as we received the news two days before his third birthday. Although his party had to be cancelled we still had a celebration for this amazing news.
We had taken our daughter out of school before they closed because of concern for Jaymen. We had been self isolating from a very early stage and had major concerns for how it might affect Jaymen because his immune system is still compromised from the effects of the treatment. Also Jaymen's consultants confirmed he's in the high risk category and needed to isolate for 12 weeks.
Jaymen was due to have surgery to remove his Hickman line this month. As it was seen as non essential, the operation was cancelled but due to concern that it may become infected, it was decided that the safest option would be to get it out as soon as possible. Jaymen had surgery two weeks ago to remove it. All went well and is healing nicely.
Isolation goes on and the concern is still there, but Jaymen is in good spirits. He is used to isolation from all the hospital stays, he's eating better than ever and is enjoying playing with his big sister.
He's even told us he's normal like his sister now he has no feeding tube or wigglies (Hickman). This was difficult to hear because he believed he was not normal before. We are just so pleased he can start nursery later this year and start living life like a three year old should.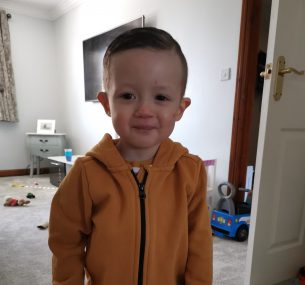 How you can help
If you've been touched by Jaymen's journey, help us invest in the high quality research that really matters which would otherwise go unfunded.
This helps to support children with cancer so they can be with their families for longer.
Have you or a family member been affected by childhood cancer?
Many of our supporters have been affected by childhood cancer – either through family, friends or their own personal experience. These patient stories can help inspire others to get involved with us, or can support our media work.
If you have a story that you would like to tell, please contact us by email.