Lily started to lose weight
Lily was born a healthy baby, but always had an intense cry. I would take her to the doctors continuously from a month old and this was put down to colic, a stiff neck and milk intolerance. At around nine months our concerns began to really grow when Lily began to stop eating and drastically lose weight. Despite us taking Lily to the doctor's numerous times her condition went undiagnosed. Her skin began to sag and she had a very bloated belly. She was skin and bones. The doctors always commented on how happy she was and that it was a phase she would get through. One doctor simply suggested trying cornflakes. A dietician also suggested putting cream into all her food but the main issue became the fact that Lily just would not eat.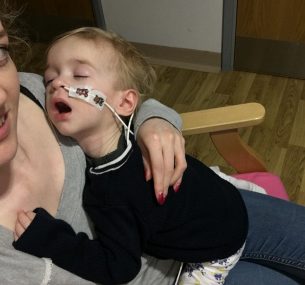 The devastating news we received
After feeling that my concerns were not being taken seriously, we proceeded to take her to a private paediatrician who immediately referred us for blood tests and a heart scan. Whilst awaiting a heart scan we became seriously concerned for Lily as she suddenly became very lethargic, so we took her to A&E. The doctors were shocked at her condition and immediately put a feeding tube into her stomach and began to run more tests. We stayed in hospital and fed her every few hours but over the next few days she did not gain any weight. They then started to run some genetic tests. It was only when we noticed that she had developed a nystagmus – flickering of the eyes that she was referred for an eye exam and an MRI scan after nine days in hospital. We were then given the news that Lily had a brain tumour. It was completely shocking and devastating but suddenly everything made sense.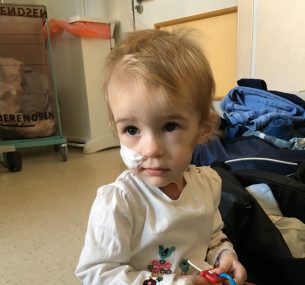 The treatment begins
We were then referred to Great Ormond Street Hospital and lily began treatment in the December 2017. Chemotherapy has been very tough on Lily. We have spent many days and nights in hospital as she picks up illnesses quite easily due to having a low immune system. She has also had a number of blood and platelet transfusions because of the chemotherapy.
Her diagnosis has been devastating and life changing but so far after nearly a year of chemotherapy the tumour has remained stable so we are feeling very positive at the moment.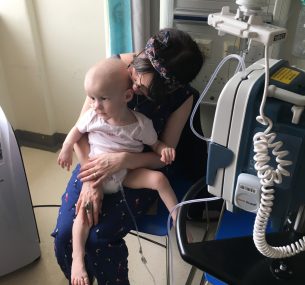 Update: November 2019
Lily is currently two years into her cancer journey.  After an initial 18 months of intensive chemotherapy we celebrated the end of treatment in May 2019. We had a four month break before discovering that the tumour had grown along with a number of cysts and that her vision had further deteriorated. She then began a further year of treatment. She also had a VP shunt fitted because the fluid in her brain does not drain as it should due to the tumour. After further chemotherapy, Lily began to walk with a slight limp and a scan has shown the tumour and cysts have continued to grow. She will now need a further course of chemotherapy for another year.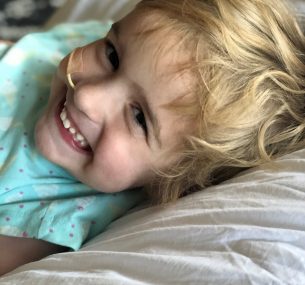 How you can help
If you've been touched by Lily's journey, help us invest in the high quality research that really matters which would otherwise go unfunded.
This helps to support children with cancer so they can be with their families for longer.
Have you or a family member been affected by childhood cancer?
Many of our supporters have been affected by childhood cancer – either through family, friends or their own personal experience. These patient stories can help inspire others to get involved with us, or can support our media work.
If you have a story that you would like to tell, please contact us by email.