The first End of Treatment Bell in the UK
Back in 2013, eight year old Emma was diagnosed with rhabdomyosarcoma – a soft tissue sarcoma. Soft tissue sarcomas account for 7% of childhood cancers.
Following a nine-hour operation to remove the tumour and a three day chemo course, Emma and her family flew to Oklahoma for Proton Beam Therapy – courtesy of the NHS.
During their time in Oklahoma, they saw lots of patients ringing a bell after finishing their treatment. They couldn't wait for Emma's turn. Finally, after her last dose of Proton Beam Therapy, it was Emma's turn to ring End of Treatment Bell.
Back in Britain, Emma's family looked forward to the day when she would finish chemotherapy. They showed the bell to the nurses who agreed it was a fantastic idea. So a bell was made in time for Emma's last chemo and she was the first to ring it at Manchester.
Since then, the bell has been rung by thousands of patients and now has it's own facebook page!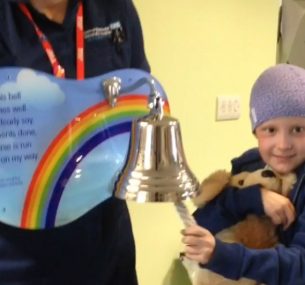 End of Treatment Bells for all hospitals.
Emma is now three and a half years out of treatment and doing well. She loves school, dancing, singing and drawing.
In the meantime, Mum Tracey has been raising money to provide End of Treatment Bells for hospitals throughout Britain – so everyone can feel the joy of ringing The End of Treatment Bell.  She does this through the Maria Watt Birmingham Foundation and has so far provided 148 End of Treatment Bells.
Read Emma's story       Watch videos of children as they ring the bell
End of Treatment Bells are placed into hospitals for children and adults with cancer to ring after their gruelling treatment.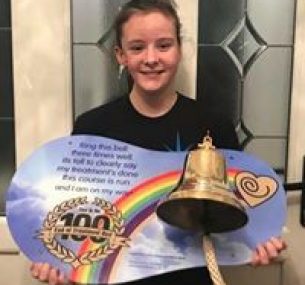 The End of Treatment Bell poem
For a child with cancer, ringing the bell is a huge milestone. It means they've finished their treatment and are ready to get on with life.
'It's not just a bell – it's a symbol of hope'
The words on every bell read
"Ring this bell 
three times well
its toll to clearly say
my treatment's done
this course is run
and I am on my way!"
End of Treatment Bell videos
Many families have shared their videos with us to show the special moment when their child rings the end of treatment bell. It's the end of a long and demanding road that every child affected by cancer can be proud of reaching.  Watch the End of Treatment Bell videos
These bells are supplied to hospitals by the lovely people at 'End of Treatment Bells.'
If you have an end of treatment story that you would like to share, you can use our video builder to