Holly wanted to support her mother
This is Sue's third London Marathon running for Children with Cancer UK. This year Sue's six-year-old daughter, Holly, has also been running her own marathon one mile at a time leading up to the big day.
After Mum had completed the marathon she joined her and they ran Holly's remaining .2 of a mile together. Holly wanted to support her mother but is too young to take part in the 26.2 mile feat.
Media attention!
Her efforts, however, have caught the attention of athletes and celebrities…
Holly also ran with Warrington Wolves player Richie Myler and his wife and former Blue Peter presenter Helen Skelton.
Holly posted a video on YouTube asking her idol, Louis Tomlinson from One Direction, to run a mile with her!
Holly has had a huge amount of coverage, and is possibly the youngest ever marathon runner…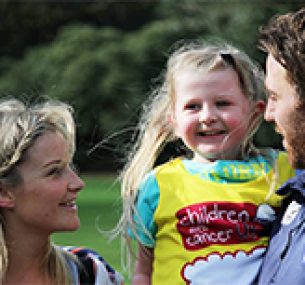 Thank you!
We are very impressed and very thankful for her and her mum's support.
Sue and Holly have so far raised a staggering £6,500!