"Just like any other parent I don't want to see my child suffer. I also don't want her to die from cancer and we are faced with a cure that is as nasty as the disease. I dream about the future, when all of this is over, when Vega is well. I have hopes for a future when families do not have to face the same hardship as us. When treatment is easier, quicker, or maybe even redundant because a cure has been developed."
Vega's mum Kathi writes about her daughter's first year of treatment for leukaemia. A harrowing story faced by too many parents of children with cancer.
And treats us to updates on how Vega's doing now.
Latest update: December 2017
These are Vega's beads of courage. This was originally an American programme that was established to support children with long term and/or life threatening illnesses to feel a greater sense of ownership over their treatment. There is a British charity called Be Child Cancer Aware who brought these over to the UK and now many hospitals here are using them. The children get a sort of diary where you can tick off any treatments you receive and then at the end of the day or week you see your designated bead person – often the play therapist in children's ward, to collect your beads.  These beads were tremendously helpful for us, understanding what treatments would happen during the day, marking achievements and milestones but also hard times. These are Vega's beads now, a little over 2000 if I remember correctly.
There are many achievements beads too, when children are particularly brave or have overcome a great difficulty. Most treasures of all is the Purple Heart – the end of treatment bead. Vega still gets a bead now for every follow up.
They are really great and Vega is very proud of them!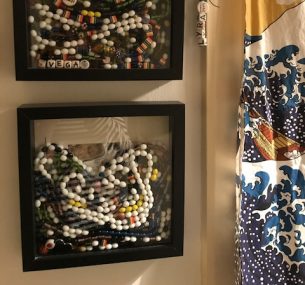 Latest update: December 2017
Vega (wearing sunglasses) has now been off treatment for three and a half years. She will be nine on Boxing Day and in January it will be six years since she was first diagnosed with leukaemia. She is really well. We are very lucky as Vega has very little lingering affects from the treatment- her legs get tired easy but she attended a summer dance school and could easily keep up with all the other children.
Her follow up appointments have moved from three monthly to six monthly and in just another year she will move into annual long term follow up. She recently cut off her very long hair and donated it to charity, as well as organising two bake sales for Children with Cancer UK with her friend Gracie this year. As she is getting older she is talking more and more about her experience having cancer and wants to help children still going through treatment.
She seems to have coped with treatment remarkably well, both physically and psychologically. She is a very happy, healthy almost 9-year-old.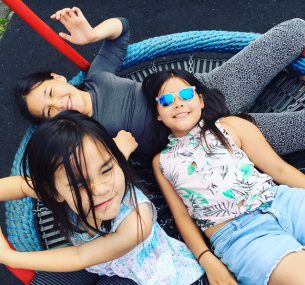 Update: May 2017
Vega and Gracie had a very successful bake sale on the weekend (27 May 2017). They raised an incredible £77. They were so very pleased with their sale and are planning another one already, we are also very grateful to all the lovely people who came to buy cakes. A very nice way to celebrate Vega's three years in remission.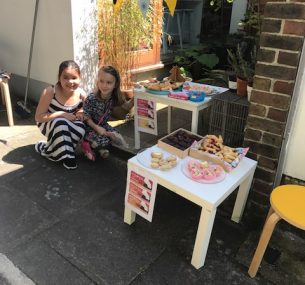 Update: February 2015
Vega is doing well. She has some treatment related issues but has been off treatment since June 2014 now and is recovering slowly, but very steadily.
I have continued to write my blog. I most recently wrote about the end of so many of our support services because Vega is not on treatment anymore. I am finding this very hard. Cancer does not only affect a family while a child is ill, but lingers into a family's life for many more years.
Vega turned six on Boxing Day. It was her first birthday in years when she wasn't on steroids. I can not begin to tell you how much better the day was compared to the last few.